Karena belum bisa tidur, jadi lanjut semampunya ya...
Buka pake quote dulu deh *emangnya ini presentasi di badan-badan kampus?*
"
Forever is a long time, but i wouldn't mind spending it by your side"
31.
Just The Way You Are - Billy Joel
Versi Warkop DKI lebih yahud hahaha. Aslinya juga enak kok.
32. Kiss From A Rose - Seal
Yak Batman datang!!! Aku tau lagu ini gara-gara mainan SongPop dan sering denger lagunya di mobil papa. Liriknya 11-12 lah sama I Want To Spend My Lifetime Loving You, ke Batman-batmanan.

But did you know,
That when it snows,
My eyes become large and
The light that you shine can be seen.

Baby,
I compare you to a kiss from a rose on the gray.
Ooh,
The more I get of you,
The stranger it feels, yeah.
And now that your rose is in bloom.
A light hits the gloom on the gray
33. Kiss Me - Sixpence None The Richer

Lagu iklan permen Kiss. Udah tau lah ya semuanya hahaha. Enak banget!!!

Oh, kiss me beneath the milky twilight
Lead me out on the moonlit floor
Lift your open hand
Strike up the band and make the fireflies dance
Silver moon's sparkling
So kiss me
34. L-O-V-E - (banyak versi, ga tau masukin yang mana)
Lagu pasaran nih. Ada versi Nat King Cole, Michael Buble, sampe ada yang versi Tompi. Semua enak hahaha.
L is for the way you look at me
O is for the only one I see
V is very, very extraordinary
E is even more than anyone that you adore
35. Lady Valentine - David Gates
Aku tau lagu ini dari FB temen, dia bilang lagu ini lagu cinta yang paling dia suka. Langsung aja deh aku denger dan ikutan suka.
Everybody knows musician needs somebody special
Always just the same who keep the crazy dance
Better around enough to know for me there's no one finer
And she's mine, she's my lady valentine
36. Lost In Space - Lighthouse Family
Lagi-lagi lagu kebawa pergaulan Jak-FM. Lagu lawas tapi enak banget dan liriknya dalem parah sih. Enak didengerin sebelum bobo atau malem-malem sambil liat pemandangan atau di tengah perjalanan jauh yang sepi.

Sometimes I get tired of this me-first attitude
You are the one thing that keeps me smiling
That's why I'm always wishing hard for you

'Cause your light shines so bright
I don't feel no solitude
You are my first star at night
I'd be lost in space without you

And I'll never lose my faith in you
How will I ever get to heaven, if I do
37. Love Is All Around - Wet Wet Wet
Lagu lawas juga, sebenernya nyari dari lama cuma ga ketemu-temu. Suatu ketika, TV kamar ortu mendadak kepencet, yang harusnya TV kabel malah jadi radio. Eh pas itu kesetel lagu ini. Untung ada Soundhound jadi tau deh judulnya apa hahaha.
You know I love you, I always will
My mind's made up by the way that I feel
There's no beginning,
There'll be no end
'cause on my love you can depend
38. Love Of A Lifetime - Firehouse
Kembali ke musik rock. Kenal lagu ini ya dari...biasa, youtube-ing. Firehouse ini biarpun rock-rock sangat gitu tapi lirik lagunya sweet-sweet semua loh haha.
With you I never wonder - will you be there for me?
With you I never wonder - you're the right one for me?

I finally found the love of a lifetime
A love to last my whole life through
I finally found the love of a lifetime
Forever in my heart
I finally found the love of a lifetime

39. Lucky - Jason Mraz feat Colbie Caillat
Kita masuk kepada lagu heiitttzzz pada jamannya hahaha yaitu tahun 2009 awal. Dulu sering banget denger lagu ini pas SMA sampe diulang-ulang sampe ngeprint liriknya buat ngapalin. Sering juga diputer di radio. Suka dipake nih lagu sama orang baru jadian haha.

Lucky I'm in love with my best friend
Lucky to have been where I have been
Lucky to be coming home again
Ooohh ooooh oooh oooh ooh ooh ooh ooh
40. Most Beautiful Girl In The World - Prince
Aku tau lagu ini dari...Jak-FM. Cocik buat ngegombal.
Could you be the most beautiful girl in the world?
It's plain to see you're the reason that God made a girl
When theday turns into the last day of all time
I can say I hope you are in these arms of mine
And when the night falls before that day I will cry
I will cry tears of joy cuz after you all one can do is die, oh
And if the stars ever fell one by one from the sky
I know Mars could not be, uh, too far behind
Cuz baby, this kind of beauty has got no reason to ever be shy
Cuz honey, this kind of beauty is the kind that comes from inside
*udah 40 dan tambah somnolen...zzzzzzzz*
41. My Boo - Usher feat Alicia Keys
Aku udah tau lagu ini dari jaman baru ngehits banget sampe ada plesetannya judulnya Babu *yang punya HP Nokia Symbian jadul versi pertama pasti pernah nyimpen ini di HP nya hahahaha*. Tapi baru tau sekarang ini kalo liriknya sweet juga.
There's always that one person
That will always have your heart
You never see it coming
Cause you're blinded from the start
Know that you're that one for me
It's clear for everyone to see
Ooh baby ooh you'll always be my boo
42. My Heart Will Go On - Celine Dion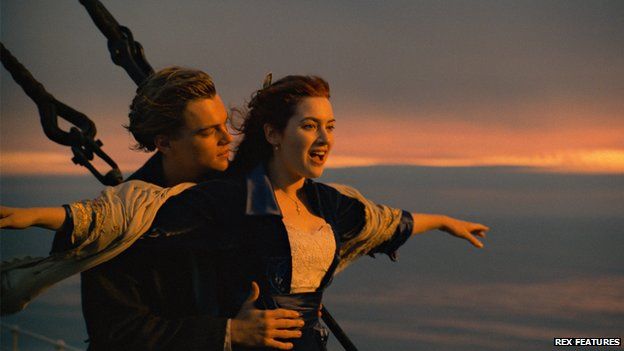 I'm flying!
Delapan belas tahun sudah lagu ini ada beserta filmnya dan adegan fenomenal di atas. Sayangnya waktu sayah nonton di TV yang ada udah kena sensor tuh adegan di mobil hahaha. Belum pernah nonton aslinya juga sih. Biar pasaran tapi liriknya sweeet banget :)

Near, far, wherever you are
I believe that the heart does go on
Once more you open the door
And you're here in my heart
And my heart will go on and on
43. Never Knew I Needed - Ne-Yo
Sebenernya udah sering denger lagu ini sejak lama cuma baru taunya sekarang. Btw ini soundtracknya Princess and the Frog. Liriknya sweet banget ngegambarin pasangan baru jadian hahaha.
For the way you're something that I'd never choose
But at the same time, something I don't wanna lose
And never wanna be without ever again

You're the best thing I never knew I needed
So when you were here I had no idea
You the best thing I never knew I needed
So now it's so clear, I need you here always
44. Nothing Gonna Change My Love For You - George Benson
Lagu lawas lagi. Udah pasaran lah ya jadi udah tau gimana sweet nya haha. Dulu selalu denger ini berulang-ulang di komputer sambil main Feeding Frenzy.
Nothing's gonna change my love for you
You ought to know by now how much I love you
One thing you can be sure of
I'll never ask for more than your love
Nothing's gonna change my love for you
You ought to know by now how much I love you
The world may change my whole life through
But nothing's gonna change my love for you
45. Since I Found You - Christian Bautista
Lagi-lagi si Mas Christian. Dulu emang ngetop banget sih doi terus ganteng terus jadi suka lagunya tapi emang enak-enak sih.
Since I found you my world seems so brand new
You've show me the love I never knew
Your presence is what my whole life through
Since I found you my life begin so new
Now who needs a dream when there is you
For all of my dreams came true
Since I found you

Your love shines bright
Through all the corners of my heart
Maybe you are my dearest heart
I give you all I have my heart, my soul, my life
My destiny is you
Forever true... I'm so in love with you
46. Something Stupid - Robbie Williams feat Nicole Kidman
This is it!!! My all time favorite :) Dari dulu sampe sekarang lagu ini enak banget banget banget. Cocok buat didenger di segala suasana :) Copas semua aja deh liriknya, ini paling enak diantara semua :)
I know I stand in line
Until you think you have the time
To spend an evening with me
And if we go someplace to dance
I know that there's a chance
You won't be leaving with me
Then afterwards we drop into a quiet little place
And have a drink or two
And then I go and spoil it all
By saying something stupid
Like I love you

I can see it in your eyes
You still despise the same old lines
You heard the night before
And though it's just a line to you
For me it's true
And never seemed so right before

I practice every day to find some clever
lines to say
To make the meaning come true
But then I think I'll wait until the evening
gets late
And I'm alone with you
The time is right
Your perfume fills my head
The stars get red
And oh the night's so blue
And then I go and spoil it all
By saying something stupid
Like I love you
I love you...
47. Tell Me It's Real - KCi feat JoJo
Aku tau lagu ini lagi-lagi dari Jak-FM. Cuma satu kata, sweet :)
Tell me it's real
The feeling that we feel
Tell me that it's real
Don't let love come
Just to pass us by
Try, is all we have to do
It's up to me and you
To make this special love
Last forever more
48. Thank God I Found You - Mariah Carey feat 98 Degrees
Yah lagu kewongan lagi. Ya emang cocok sih liriknya :)
Thank God I found you
I was lost without you
My every wish and every dream
Somehow became reality
When you brought the sunlight
Completed my whole life
I'm overwhelmed with graditude
'Cause baby I'm so thankful I found you


49. The Way You Look At Me - Christian Bautista
Nainiiii lagu hits dari doi. Dulu suka dengerin ini yang versi ringtone nya jaman masih pake N-Gage *jadul beut* berulang-ulang dan ga bosen.
'Cause there's somethin' in the way you look at me
It's as if my heart knows
You're the missing piece
You make me believe
That there's nothing in this world I can't be
I never know what you see
But there's somethin' in the way you look at me
50. This I Promise You - N Sync
Lagu kewongan again.
And I will take
You in my arms
And hold you right where you belong
Till the day my life is through
This I promise you
This I promise you
51. To Be With You
Kenal lagu ini sejak insiden
ini
. Terus tak dengerin berulang-ulang dari HP sepupu.
I'm the one who wants to be with you
Deep inside I hope you feel it too
Waited on a line of greens and blues
Just to be the next to be with you
52. Truly - Lionel Richie
Lupa taunya dari mana...pertama kali denger udah suka, liriknya dalem banget :) Dengerin dari awal, mantep :)
Because I'm truly
Truly in love with you girl
I'm truly head over heels with your love
I need you, and with your love I'm free
And truly, you know you're alright with me
53. Truly, Madly, Deeply - Savage Garden
Aku tau lagu ini juga udah dari lama cuma ya baru denger sering gara-gara main SongPop. Enak didenger pas lagi petang, nikmatin pemandangan sesuai lirik di reff nya atau menjelang bobo.
I want to stand with you on a mountain
I want to bathe with you in the sea
I want to lay like this forever
Until the sky falls down on me
54. Unbelieveable - Craig David
Soundtrack jadian temen saya dan mantannya hahahahaha. Tapi emang dalem banget sih liriknya. Enak jadi lagu pengantar bobo :)
Always said I would know where to find love,
Always thought I'd be ready and strong enough,
But some times I just felt I could give up.
But you came and you changed my whole world now,
I'm somewhere I've never been before.
Now I see, what love means

It's so unbelievable,
And I don't want to let it go,
Something so beautiful,
Flowing down like a waterfall.
I feel like you've always been,
Forever a part of me.
And it's so unbelievable to finally be in love,
Somewhere I'd never thought I'd be
55. Valentine - Martina McBridges
Ya sejarah tau lagu ini udah ada di post sebelumnya.
i've dreamed of this a thousand times before
in my dreams i couldn't love you more
i will give you my heart
until the end of time
you're all i need, my love, my Valentine
56. We Could Be In Love - Lea Salonga & Brad Kane
Lagu yang sering didenger pada masa kelam yang ga perlu dijelasin kelamnya kaya apa hahaha. Liriknya itu loh, nonjok!
Anyone who's seen us
Knows whats going on between us
It doesn't take a genius
To read between the lines

and its not just wishful thinking
or only me whos dreaming
I know what these are symptoms of
we could be in love
57. When I Fall In Love - Celine Dion
Lagi-lagi Mbak Celine. Emang lagunya enak-enak sih dan doi adalah salah satu penyanyi wanita barat favoritku. Ada juga versi Glenn Fredly sama Dewi Sandra yang ga kalah enak tapi sayang dah cere.
When I fall in love
It will be forever
Or I'll never fall in love

In a restless world
Like this is
Love is ended before it's begun
And too many
Moonlight kisses
Seem to cool in the warmth of the sun
58. Wonderful Tonight - Eric Clapton
Lagu karaoke wajib paling heitzzz ini dan ada kenangan tersendiri juga buatku haha. Ada juga versi Michael Buble nya entah kecampur bahasa apa itu aku ga tau. Udah suka dari dulu sih :) Spesial lagi, copas semua aja liriknya...
It's late in the evening; she's wondering what clothes to wear.
She puts on her make-up and brushes her long blonde hair.
And then she asks me, "Do I look all right?"
And I say, "Yes, you look wonderful tonight."

We go to a party and everyone turns to see
This beautiful lady that's walking around with me.
And then she asks me, "Do you feel all right?"
And I say, "Yes, I feel wonderful tonight."

I feel wonderful because I see
The love light in your eyes.
And the wonder of it all
Is that you just don't realize how much I love you.

It's time to go home now and I've got an aching head,
So I give her the car keys and she helps me to bed.
And then I tell her, as I turn out the light,
I say, "My darling, you were wonderful tonight.
Oh my darling, you were wonderful tonight."
59. You and Me Song - The Wannadies
Again-again tau dari Jak-FM. Ini soundtracknya Romeo & Juliet. Liriknya nge beat seru dan cocok buat pasnagan baru jadian haha.

Always when we fight
I try to make you laugh
Until everything's forgotten
I know you hate that

ba ba ba ba ba ba ba ba
ba ba ba ba ba ba ba ba

Always when we fight
I kiss you once or twice
And everything's forgotten
I know you hate that

I love you Sunday sun
The week's not yet begun
And everything is quiet
And it's always

You and me - always - and forever
You and me - always - and forever
60. You Make My World So Colorful - Daniel Sahuleka
Ini enak parah. Kenal lagu ini gara-gara denger di Cafe yang ada di bioskop Plaza Senayan itu loh lupa namanya. Band nya yang nyanyi kalo ga salah 50-50. Ini cafe emang suasananya romantis sih *tsaaah* tapi sayang aku ga pernah makan sama pasangan karena ga punya *halah kok jadi OOT*
You make my world so colorful
I've never had it so good
My love I thank you for all the love
You gave to me
61. You're The Inspiration - Chicago
YAY TERAKHIR!!! Aku kenal lagu ini pas acara nikahan sepupu. Enak dan liriknya dalem :)
You're the meaning in my life
You're the inspiration
You bring feeling to my life
You're the inspiration
Wanna have you near me
I wanna have you hear me sayin'
No one needs you more than I need you

AKHIRNYA KELAR JUGA POSTINGAN INI HAHAHAHA. Akunya udah ngantuk, lagunya abis, jadi tidur dulu ya see you next post :)